Applications of low-pressure surface technologies in the biomedical domain
IONICS has developed a new ion implantation system fixing current issues like the release of toxic ions or the mechanical durability of the implant.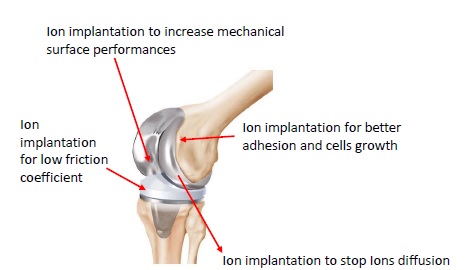 Do you want some specific results ? More information ? Please feel free to contact us.

Fabian RENAUX

R&D Manager
Development of biocompatible and resorbable polymers for prosthesis in Materia Nova R&D center
The PROBIOMESH project aims to improve the surgical management of genital prolapse (organ descent). This improvement is envisaged by the creation of new textile implants. These new implants will be semiresorbable and will have mechanical properties perfectly adapted to the problem of genital prolapse.
Project MATISS : development of a new bioprosthesis to help the body restoring injured areas following curative surgery. This restoration of the tissues is done thanks to the autologous removal of fat cells re-implanted on a resorbable textile structure. The latter provides a role of maintenance, aiding the multiplication of implanted fat cells and revascularization. It is coupled with a bio-resorbable and custom 3D shell that delimits the volume to be rebuilt. Eventually, the resorbable support will disappear.