Walibeam Industrial Platform for Ion Implantation
YOUR GLOBAL SOLUTIONS IN THE FIELD OF ION IMPLANTATION WITH OUR OPEN-INNOVATION INDUSTRIAL APPROACH
A set of industrial pilot tools dedicated called WaliBeam will be soon available as Key Enabling Technologies (KET) for industrial demonstration. This Walloon initiative is supported by several industrial majors in the fields of surface treatment of glass, metals or alloys and polymers. The controlled modification of the surface of an object is necessary to control its interactions with the outside real world. Currently, surface modifications still suffer for a limited robustness. Our Ion implantation technologies (based on Quertech-Ionics ECR sources) are environmental-friendly and produce innovative and lasting surface functional materials. This platform will host an exceptional set of industrial pilot installations that will allow new products of different technological maturity or TRLs (from laboratory ~ cm2 to industrial pilot ~ m2) and with various morphologies (flat, Rigid or flexible, powders or 3D objects) in all key market segments.
Innovative aspects and main advantages

IMPROVING MATERIALS WITH ION IMPLANTATION
Typically, a surface conversion is observed down to few µm in bulk with no risk of delamination compared to conventional coatings. Taming the ions beam improves wear resistance, reduces friction coefficient and improves corrosion resistance. Moreover, by increasing the electrical conductivity of dielectric materials (doping), modifying their optical properties or improving the efficiency of catalysts gives rise to unlimited material and future smart applications.
within a short to mid-term, WALIBEAM can offer several collaborative scheme and services :
- Collaborative R&D Projects (Proof-of-Concept, KET to DEMO)
- Line renting / Products manufacturing
- ECR Ion Sources NOW / Factory Tools
- Products Analysis & Qualification
Market application
This ion implantation technology is potentially relevant for all markets (construction, automotive, appliances, packaging and specialties like solar, catalysis ...).
Currently, surface hardening of several materials (glass, metals or alloys, polymers) combined anticorrosion and low friction coefficient represents major short-term valorisation opportunities.
Type of partner sought
Industrial; Europe, Large and SME.

Industrial needs and potential collaborative scheme.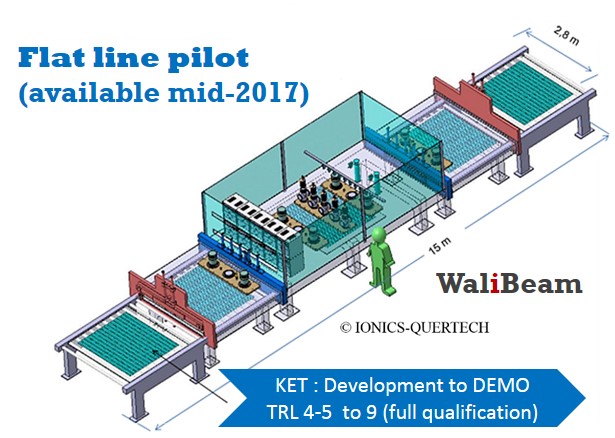 If you need more information, please contact Fabian RENAUX : info@ionics-group.com.
Project Partners:
AGC, GRAUX, MATERIA NOVA, IONICS
The project is co-financed by the Walloon Research Administration, DGO6.
More details on : www.walibeam.com