EASYFIX : Engineered antibacterial solutions for temporary fixation devices
The Easyfix project aims the development of innovative antibacterial and antiadhesive temporary fixation devices, in order to overcome the main current issues: bacterial contamination and tissue overgrowth. The EASyFIX Consortium, coordinated by INTRAUMA, has a specific interest in the development of medical devices with antibacterial properties, because they could drastically reduce infections of orthopaedic and trauma devices. INTRAUMA has a great interest in developing and commercializing a product portfolio able to solve this problem on both Titanium (and its alloys) and Stainless Steel substrates. Polytecnico di Torino and IONICS are key partners for developing a coating technology able to optimize the device properties, production prices and warrantying the process industrialization. The coated devices will be able to address the main needs of temporary fixation devices : bacterial contamination and tissue overgrowth by a reduction of bacterial adhesion compared to traditional uncoated ones, an antibacterial action against the main pathogens involved in prosthetic infections (e.g. S. aureus) and a reduction of tissue overgrowth compared to the standard uncoated ones.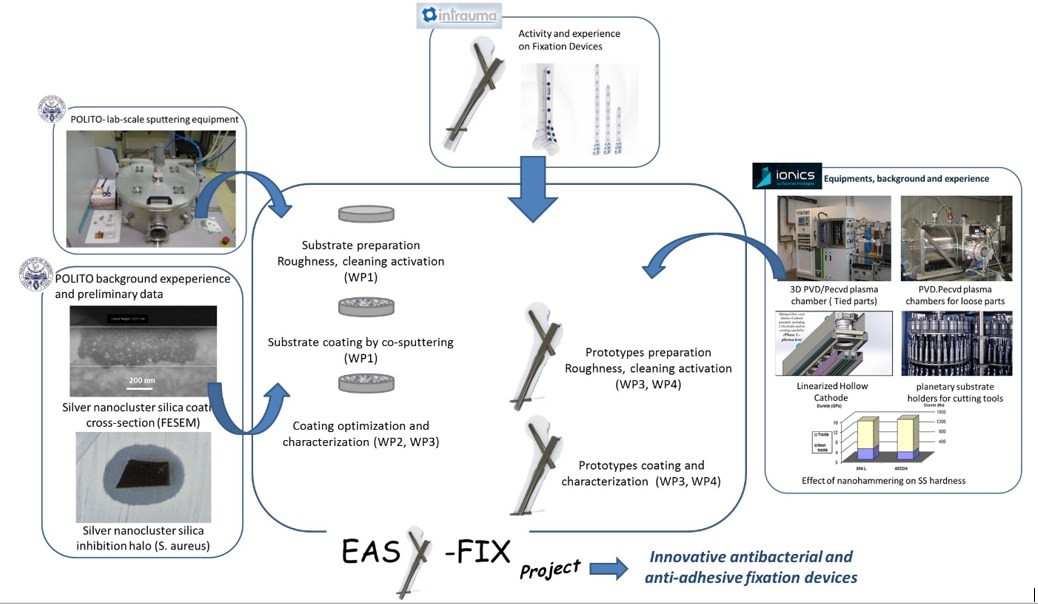 After 2 years of project, the PLAMECO system has been adapted with a large co-sputtering system from ROBEKO able to replicate the recipe developed by the Polytecnico of Turino's team. The first pre-series would be producted at the end of September 2020.
If you need more information, please contact Fabian RENAUX : info@ionics-group.com.
Project Partners:
INTRAUMA, Polytecnico of Turino and IONICS
The project is co-financed by the Walloon Research Administration, DGO6.