Sustainable Production Process for High-Quality Gold-Plated Wires for Antennae
The GOLDPAWS project partners aim to develop a coating manufacturing process using a combination of technologies (ion implantation and Plasma-enhanced PVD) to improve the performance and durability of the coating on ultra-thin wires in different metals. The properties of the final wires are superior to an existing industrial reference obtained by electroplating.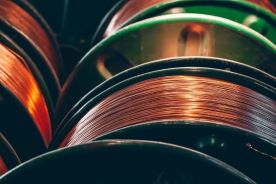 The realization of the improvement in both process and product is mainly based on the ion beam implantation technology, which - when applied on the gold layer - will result in:
(a) reducing the coating layer porosity to enhancing the corrosion resistance,
(b) increasing the hardness and wear resistance, and
(c) creating mixing zones at the interface to strenghten the adhesion between the Au layer and the metal wire.
The Project will give access to new application areas within the medical, mechanical, and electronic industries.
If you need more information, please contact Fabian RENAUX : info@ionics-group.com.
Project Partners:
LUMA METALL, IONICS and MATERIA NOVA
The project is co-financed by the Walloon Research Administration, DGO6.